From my point of view, 'Diet' is the most cliche and misinterpreted word around. Even though diet means your daily eating habit, over the past few years, the meaning has changed a lot. Nowadays, diet refers to the restriction of food consumption as an attempt for weight loss. 
No matter which definition you prefer, the perfect human diet satisfies both the meaning. This diet will please your tastebud and hunger without ruining your health. However, in most cases, this type of dieting helps you to get in better shape. 
So, without wasting any more words, let's find out what the perfect human diet is. 
What is the perfect diet? 
A perfect diet for the human is that one which contains all the necessary vitamins and nutritions. This type of food should include a considerable portion of carbohydrates, protein, and fat.
The concept of the perfect diet can vary from people to people or community to community. 
Many people follow the paleo diet plans to stay in shape, whereas others follow the Mediterranean food habit. Again, you will find people who strictly maintain the diet chart suggested by a licensed nutritionist. So, the debate on which one is the perfect human diet will go on. In this article, you will get to know each type of diet plan.
1. The perfect human diet food list
Here are the food items that are healthy and help you lose weight.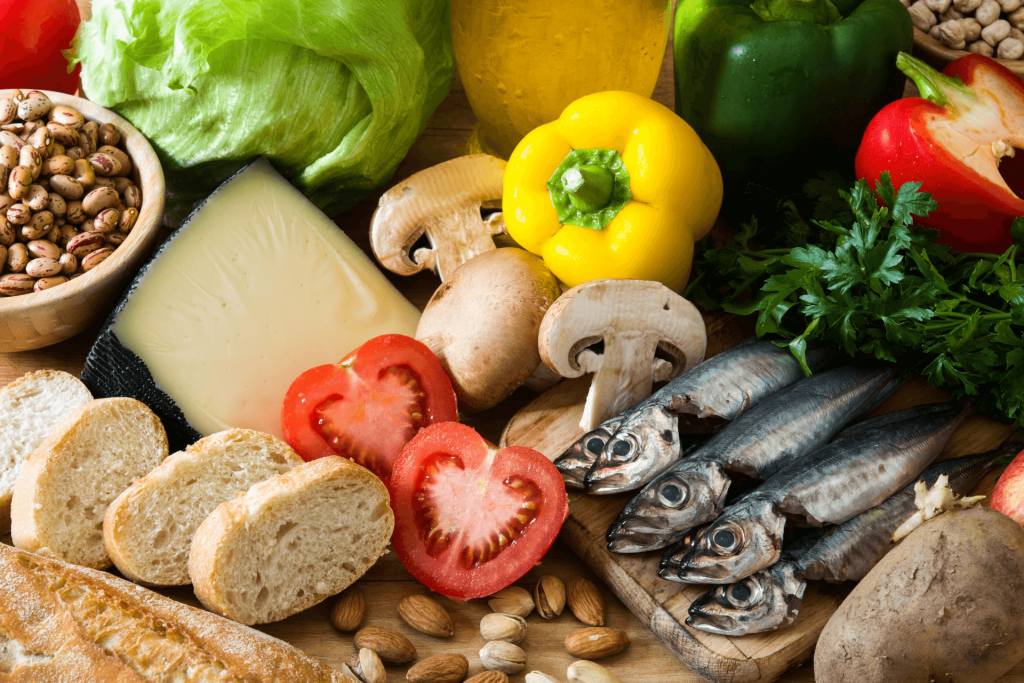 Eggs

Green leafy vegetables (spinach, swiss chards, kale, collards, etc.)

Vegetables (broccoli, asparagus, carrots, cucumber, garlic, onion, tomato, cabbage, Brussels sprout, cauliflower, etc.)

Lean beef

Chicken breast 

Lamb 

Tuna

Salmon

Shrimp

Sardines 

Shellfish 

Trout 

Boiled potato or sweet potatoes 
Legumes (green beans, lentils, kidney beans, peanuts)

Cottage cheese

Soups 

Apple cider vinegar

Nut (almond, walnut, Macadamia nuts)

Avocados 

Chilli pepper

Whole grain (brown rice, oats, quinoa) 

Fruits (apple, banana, blueberries, orange, strawberries) 

Chia seeds

Full fat yogurt

Wole milk

Coconut oil 

Olive oil
Adding these foods to your diet is always beneficial. On the other hand, some food items can make a negative impact on your health. Such as: 
Pizza 

Sugary drinks 

Commercial fruit juices 

White bread 

Sweet breakfast cereals 

Fried foods

Grilled foods 

Cakes 

Cookies 

Potato chips 

French fries 
Low fat yogurt 

Gluten free junk food

Agave nectar

Low carb junk food 

Candy bars

Ice cream 

Processed cheese

Processed meat

High calorie coffee

Fast food meals 

Anything with refined sugar

Highly processed food items 
These food items are undoubtedly mouth watering and tasty but not a fit for the healthy human diet. You must avoid these items.
The perfect human diet meal plan 
Now you know which food items are healthy and which one to avoid. To prepare a considerate meal, you can add or remove any food item you want according to your taste.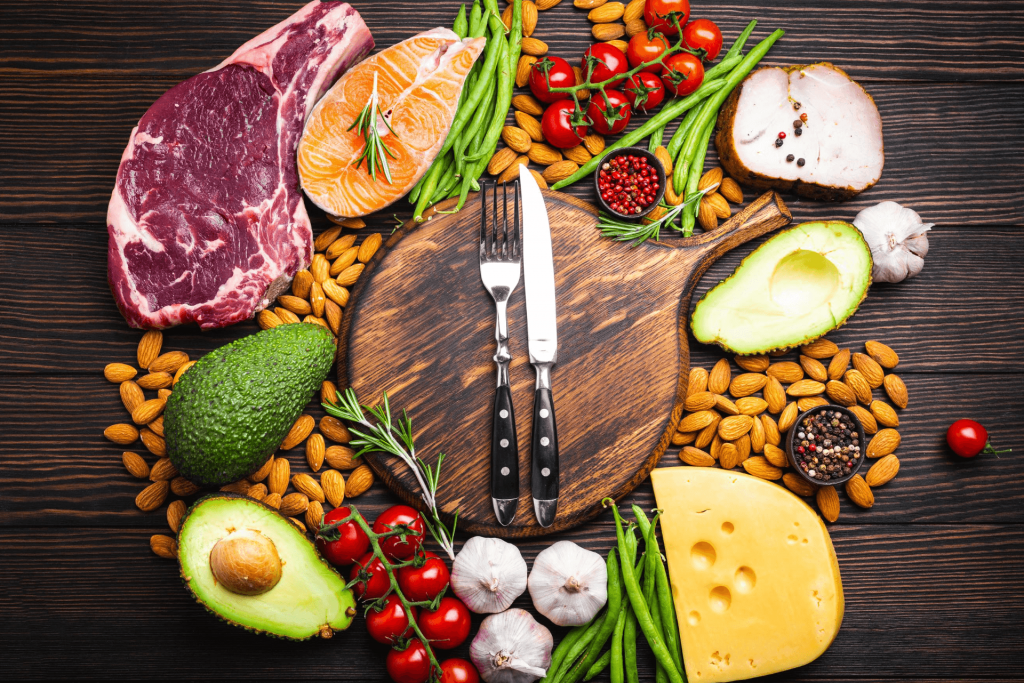 Here is an overall diet plan that you can follow:
Fruits and vegetables – ½ of your meal

Whole grain – ¼ of your meal 

Protein – ¼ of your meal 

Always choose olive oil, sunflower oil, or other healthy oils instead of hydrogenated oil. 

Drink at least 1 gallon water daily. 
While preparing your meals, you have to remember some bottom lines. Such as:
You have to minimize your carbohydrate consumption, especially the refined and high glycemic index types. 

Try eating fruits and vegetables as much as you can. 

You must add high protein food items in your meals. Plant oil and fish are considered as good sources of polyunsaturated fats. 

Limit your consumption of nuts and dairy products.
2. The paleo diet
This is another type of human diet that works perfectly. The paleo diet kind of resembles the food habit of our ancestors. Several scientific studies have proven that this diet is good for human health and can be a solution for weight loss. 
Before learning about the diet plan, let's take a look at the paleo diet food list. 
Meat (lamb, pork, beef, etc.)

Eggs 

Fish (haddock, salmon, trout, shrimp, etc.)

Vegetables (broccoli, kale, carrot, etc.)

Nuts (walnut, hazelnut, etc.)

Seed (pumpkin seed)

Spices (turmeric, garlic, etc.)

Fat and oil ( olive oil, avocado oil, etc.) 
Here is a list of foods that you should not add on a paleo diet meal. 
Processed foods

Sugary items

Anything with artificial sweetness

Dairy products

Legumes

Vegetable oils ( sunflower oil, corn oil, safflower oil, etc.) 

Grain
Paleo diet meal plan 
Though there is no perfect paleo diet plan, you can make one by yourself. The purpose of following this diet type is to avoid processed food items and eat natural ones. Here is a model meal plan that you can moderate according to your choice and taste.
Breakfast: Boiled fish and vegetables. 
Lunch: Boiled lean meat and salad. 
Dinner: Roasted beef or fish and steamed veggies. 
Snacks: Fruits, nuts. 
3. Mediterranean diet 
Many people consider this diet type as the perfect human diet. This is also a traditional food system. Many scientific studies claim that this food habit can help in weight loss and reduces the chance of heart attack and stroke. 
Mediterranean diet is different from the regular ones. Here is a Mediterranean diet shopping list you can follow to buy the food items. 
Vegetables 

Eggs

Fruits 

Nuts

Grains

Legume 

Seeds

Fish
Condiments

Potato

Chicken 

Yogurt 

Seafood

Cheese 

Turnips

Yum 
These are the items that you can put in your diet meal plan. For drinking, water is a must. But the interesting thing is, this diet allows drinking moderate red wine 1 glass per day. You must avoid putting processed food, sugary items, refined oils, trans fat, and refined grains in your Mediterranean diet plan. 
Like the paleo diet, there is no perfect diet chart for this one too. Different countries or states follow different habits. For your convenience, here is a model Mediterranean diet meal plan. You can add or remove food items according to your taste. 
Breakfast: Omelet or yogurt with fruits and nuts.
Lunch: Tuna sandwich, salad.
Dinner: Grilled chicken or fish with rice or boiled veggies. 
Snacks: Nuts, fruits. 
Besides these 3 types, you may find other human diets that are perfect for you. All these diets can contribute a lot in weight loss and help you to stay fit. To live a healthy life, avoid unhealthy foods, and try to maintain a diet plan according to your ability.
Related: The Fast Metabolism Diet: Is This The Right Way To Lose Weight?